NEWS
The Trustees reluctantly decided to reduce operating commitments by selling the 'H. F. TRUMAN'
residential boat in October 2013 to concentrate on continuing the Trust's aims into the future.
Historic references to having operated two residential boats remain on the website.

SPONSORED MARATHON PADDLE 17TH & 18TH AUGUST 2012
By Keith Eley in aid of the Truman Enterprise Narrowboat Trust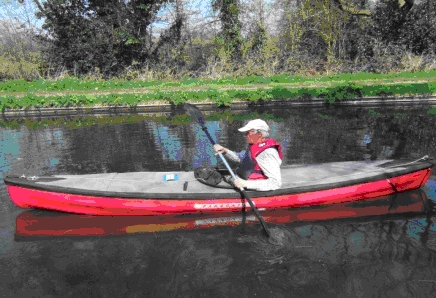 Keith Eley is a 68 year-old pensioner who has been associated with the local canals for 44 years. He has always been very keen to enable people of all ages and all abilities to enjoy Britain's waterways. He has been actively pursuing this interest as cruise organizer, voluntary skipper, and latterly as one of our Trustees.
Keith believes that the canal boats operated by the Trust are a valuable community asset, and that the work of the Trust deserves to be more widely known in the West Midlands and surrounding areas. In support of this, he has decided to attempt this 'Marathon Paddle' to raise money to support the Trust and to increase awareness of its work & facilities.
He says:- "My intention is to canoe from Birmingham to Wolverhampton on Friday 17th August, returning to Birmingham on Saturday 18th August 2012 – a distance of 27 miles. All monies raised will go to the TRUMAN ENTERPRISE NARROWBOAT TRUST to help them to continue to provide canal cruises for Community, Youth, and Disabled people."
MISSION ACCOMPLISHED! We are very grateful to Keith for taking on this daunting challenge on our behalf, and to everyone who has sponsored him. Keith would like to thank his magnificent back-up team for their support on board nb Cygnet - wife Julie with Judy Hodge and Jean Horton.
| | | |
| --- | --- | --- |
| all aboard and ready to go | | at Wolverhampton Top Lock with Julie aboard the support boat |
| portage at Smethwick Locks | | meeting steam narrowboat President en route |
| canoeist and support boat | | safe arrival back in Birmingham on Saturday night |
| | | |
| --- | --- | --- |
| Total raised £632.21 | + Gift Aid £67.88 | = £700.09 |
We thank those who sponsored Keith on this venture. If you feel inspired, you can still make donations as below.
To donate online click on the "Donate" button below.
If you are a taxpayer Gift Aid can make your donation worth more. For every £1 you give us we get an extra 25p from the Inland Revenue. Just select "yes" in the Gift Aid box below to allow us to reclaim tax on the amount you have paid. It's that simple.
(You must pay an amount of Income Tax and/or Capital Gains Tax for each tax year that is at least equal to the amount of tax that the Trust will reclaim on your gifts for that tax year.)

or download the sponsorship form below
and send with your cheque to:-
The Treasurer
Truman Enterprise Narrowboat Trust
Norfolk House, 29 Hall Lane
Hammerwich, Burntwood
Staffs WS7 0JP
To download a printable sponsorship form

You will need the Adobe Acrobat Reader to open this file
It is freely available from the Adobe Web Site

---
CHARITY CONCERT RAISES £400 FOR WALSALL ENTERPRISE
Walsall Town Wharf Event Friday 1st to Sunday 3rd June 2012
The Trust volunteers took Walsall Enterprise to Walsall Wharf for Sunday June 3rd for a very special event:
Primarily to raise funds for refurbishing the Walsall Enterprise
To welcome boats to the Wharf that took part in BCN 24 Hour Marathon Challenge
To promote the work of the Trust with A-boards; leafleting; tours aboard (for donation)
To enjoy a charity concert in the Wharf Bar on Sunday 3rd June from 5.30pm.
Unfortunately it was a spectacularly cold and wet day on the Sunday, typical of a British Bank Holiday and very disappointing to all those people who were celebrating the Queen's Diamond Jubilee. We are very grateful to our hardy volunteers who got the boat there and were ready and willing to talk to the very few passers by who stopped to look at the boats.
However, the Charity Concert in the Wharf Bar on Sunday night was a spectacular success, featuring four bands who all performed free of charge. The four bands were: Rewired, Lock In, Broken English and Hit Squad. We are deeply grateful to them all for their support. Trust volunteer Ossie Cutayar gave a very impressive performance as MC for the event - his vast repertoire of jokes came in very handy, although it was sometimes difficult to hear him! Takings on the door raised £304.50 plus another £95.50 in donations making a fantastic total of £400.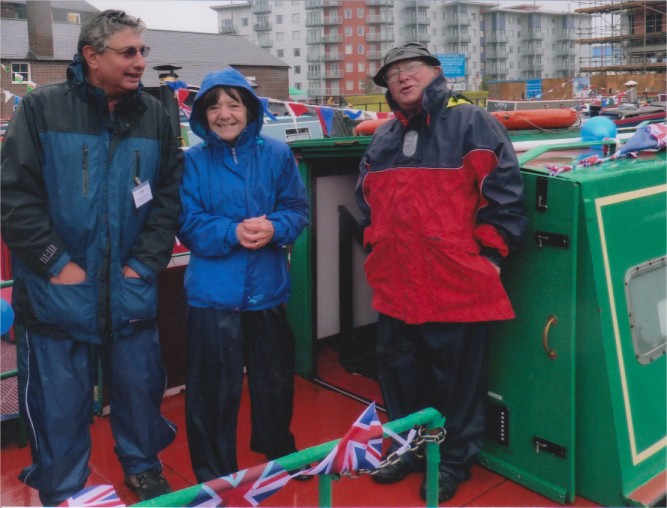 Ossie, Jean and Gerry on board the Enterprise in the rain
BCN 24 Hour Challenge June 2012
The BCN Challenge took place on Saturday 2nd and Sunday 3rd June 2012, starting at 8am on Saturday and finishing at 2pm on the Sunday. Boats may start at any point on the BCN but should finish at Walsall Town Arm. Participants may navigate for as long as they like during the 30 hour period up to a maximum of 24 hours. This challenge encourages boats to navigate along the lesser used sections of the BCN
---
£10,000 GRANT FOR WALSALL ENTERPRISE
Thanks to an excellent grant application submitted by Judy Hodge, Mariel Bishop and Jean Horton we were one of only two charities chosen by the Midcounties Co-operative to receive an "enhanced" grant of £10,000 to be used for refurbishment of the "Walsall Enterprise".
Sue Williams, accompanied by Mariel Bishop and Jayne Oakes attended the Midcounties Co-op AGM held on 19th May at the National Motorcycle Museum where the cheque was publicly presented.
The money will be used towards replacement of the badly deteriorated cabin floor and windows.



At the boatyard in the rain - Gerry and Ossie with Bob & Sue Williams and Claire from Midcounties Co-op
(photos by Midcounties photographer Ben McPhee)
Sue Williams collects the all important cheque at the Midcounties Co-op AGM
---
SUMMER ACTIVITIES
The residential boat 'A J Felgate' is sometimes available for day trips Mon - Thurs during the school summer holidays. Please phone our Bookings Secretary on 07971 266686 (Jenny Christian)
or e-mail to felgate @truman-enterprise.org.uk to make enquiries.
Pelsall Youth Club 2008
Numbers:
Maximum of 12 people of which two must be adult Leaders over the age of 21.
Groups will be actively encouraged to help work locks and have a steer!
Ages:
13 years upwards
Cost:
£150
Times:
10am - 4pm approximately
Routes:
Usually on Staffs & Worcs Canal from Calf Heath to Penkridge or Penkridge to Calf Heath.
Food and Drink:
Tea/Coffee/Squash provided
Please bring a packed lunch
Clothing:
Wear sensible footwear such as trainers, bring a cagoul and extra warm clothes.
---
IWA National Waterways Festival 2008

During the three days of August Bank Holiday 2008 the Inland Waterways Association held their annual National Waterways Festival & Boat Show. The venue was Autherley Junction near Wolverhampton, on the Shropshire Union Canal, and so of course all three Truman boats (then operating) were there, on display to the public. Many festival-goers took the opportunity to visit and look around the boats.
Nancy Jordan made all the booking arrangements and Mark Wooton organised the volunteers and the rotas. Following the event Mark had this message for everyone who helped in any way:-
"I just wanted to say a big thank you for your help at the recent IWA Festival near Wolverhampton.
We had a good presence at the festival and everyone had a good time. The weather was good considering the few poor weeks of weather beforehand.
In total, we raised £139.31 for TENT which includes £110 for calendars, £22.31 in donations, £5 spare sink, and £2 for toilet owing a great deal I am sure to Jean for her demonstrations of use! In addition we had another donation of £1.62 for another loo thanks to the bartering of Barry who delivered the loo bucket via boat shaft to another boater as we were queuing for the stop lock. It truly was a team effort!
Of course, the main goal of attending the National Festival was to promote our trust and publicise our work. There was a great deal of interest in all of our work from youth residentials, various day trips, to our new Family Day Trips. We are sure to get quite a few new bookings from our publicity.
Thank you to the team who got the boats there on Friday in good time and the team on Monday who patiently waited at the stop lock for over a hour and a half to return late Monday evening.
Thanks again and I look forward to seeing you again soon!!" Mark Wooton.
---
TRUMAN ENTERPRISE NARROWBOAT TRUST IS A REGISTERED CHARITY NO. 1037914
member of the
National Community Boats Association
Home | News | Bookings | Friends of the Trust | Walsall Enterprise | Volunteers | Training Courses | Downloads
Rules | Boat Diagrams | History | London Challenge | Llangollen Challenge | Useful Links | Contact Us | Photo Gallery