HISTORIC RECORD OF THE "LONDON CHALLENGE"
A unique fund raising opportunity for local young people to work together
23 July to 6 August 2005
On Monday 4th July 2005 the crews gathered for a briefing at Walsall Town Hall for last minute vital information and to complete all the necessary consent forms. James Murray gave an excellent PowerPoint presentation, with support from the leaders filling in the fine detail.
Crew briefing at Walsall Town Hall on 4th July
At last the planning and preparations are complete and the trip is about to start. Boat crews gather at Calf Heath on Friday 22nd July ready to be off on Saturday morning, girls on board "H F Truman" and boys on "A J Felgate". Geoff Ward from the TV series "Water World" was there filming the start of the adventure. The Mayor of Walsall Councillor John Cook joins them to wish them Good Luck on their journey
Abbreviated Diary of highlights as reported to the Webmaster.
Saturday 23rd July - Day One - Calf Heath to Smethwick
The first day was a bit too eventful! One of the boys was bitten by a dog on the towpath and had to be taken to hospital for antibiotics. Happily he is now fine again.
Then the "H F Truman" broke down! At the top of the "Wolverhampton 21" a gear cable broke and she was going nowhere! Fortunately River Canal Rescue came out and fixed the problem and they were on their way again.
Then the third, and hopefully last, incident. One of the adult leaders, Brenda Squire, slipped and broke her wrist. She had to return home and will make another visit to the fracture clinic tomorrow.
As a result of all these delays the boats, not surprisingly, did not reach Birmingham City Centre on Saturday night as planned, so there will be a bit of catching up to do tomorrow.
Sunday 24th July - Day Two - Smethwick to Kingswood Junction
Through Birmingham City Centre, out to Edgbaston and past Birmingham University, through Bourneville (passing Cadbury World) and onto the Stratford Canal at Kings Norton Junction. Weather cold and wet, but everyone in good spirits and pressing on to make up for lost time. Carried on until 9pm down the 19 locks at Lapworth and reaching the Grand Union Canal to tie up for the night.
Monday 25th July - Day Three - Kingswood to Stockton Top Lock
The crew from the TV series "Water World" was with the boats filming all day and hope to back again on Thursday. Heard today that Brenda's wrist is badly fractured, and she had to be admitted to hospital for an operation to insert plates and pins. She is hoping to re-join the boats for Week Two, and we all wish her a speedy recovery.
Tuesday 26th July - Day Four - Stockton to Stoke Bruerne
Back on target and going well. We should make it to Stoke Bruerne tonight and when we do we are going out for a pub meal. Hooray!
Wednesday 27th July - Day Five - Stoke Bruerne to Leighton Buzzard
Another wet day, but the crews are still in good spirits, despite very wet clothes!
Thursday 28th July - Day Six - Leighton Buzzard to Berkhamstead
We should have reached Boxmoor today but stopped ten locks short of the target at Berkhamstead. Enjoyed a great barbecue, went to a free gig and had a surprise donation of £100 from the group.
Friday 29th July - Day Seven - Berkhamstead to somewhere outside Harefield
Today's target destination was Bulls Bridge Junction but we failed to make up for lost time and ended up three hours behind schedule. It will have to be an early start tomorrow to get to Camden on time!
Saturday 30th July - Day Eight - All aboard for the Pirate Castle
Up at 6am for breakfast and then all out for the last lap of the outward journey. "Water World" joined us again to do some more filming for the TV series.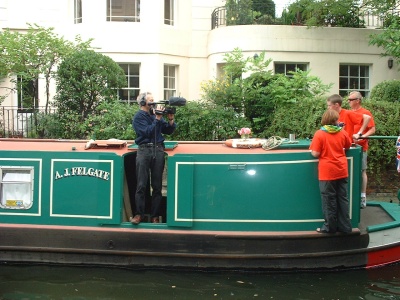 Reached Bulls Bridge at 9.30 and stopped to do some shopping at Tescos. We had hoped to get to Pirate Castle by 11am, but finally arrived at 2pm - everyone out on deck cheering and waving. The relief crew had travelled down to London by coach and were waiting there with balloons and whistles to greet us.
Unfortunately the Mayor of London was unable to be there to receive a letter of greeting from the Mayor of Walsall, but it was accepted on Ken Livingstone's behalf by Dr Roger Squires, Chairman of the Inland Waterways Association (IWA), London Region. He welcomed all the crews and congratulated everyone on their achievement. Libby Bradshaw, chairman of IWA South London Branch and a supporter of the Pirate Club was also there to welcome and congratulate everyone.
Photos by Bob Williams
We all went inside the Pirate Castle, a brilliant place where young people in London can enjoy the canal, (See their website for more details) to enjoy a delicious buffet (prepared on board during the journey) and two huge cakes donated by Roger Squires and Libby Bradshaw on behalf of the IWA.
There was great excitement when Brenda arrived by car to re-join us for week two, in plaster up to her elbow but smiling and very happy to be back. Then after a tearful goodbye from the crew members who were going home on the coach we turned the boats around and set off back the way we had come for the homeward trip.
Postscript
Money collected totalled just over £3,000 and was divided equally between Cancer Research UK and the H F Truman Narrowboats.
By invitation of the Mayor and Mayoress of Walsall, the two cheques were presented in the Mayor's Parlour on 27th February 2006.

On behalf of H. F. Truman Narrowboats, the Mayor of Walsall, Councillor John Cook
presents a cheque for £1,505.55 to Miranda Williams of Cancer Research UK
---
For details of the route

To return to the previous page

Back to the Photo Gallery index

---
TRUMAN ENTERPRISE NARROWBOAT TRUST IS A REGISTERED CHARITY NO. 1037914
member of the
National Community Boats Association
Home | News | Bookings | Friends of the Trust | Walsall Enterprise | Volunteers | Training Courses | Downloads
Rules | Boat Diagrams | History | London Challenge | Llangollen Challenge | Useful Links | Contact Us | Photo Gallery