RECORD OF THE

"LLANGOLLEN CHALLENGE 2006"
The "AWAY Trip" Calf Heath Marina to Llangollen from Friday 21st to Wednesday 26th July 2006
AND
The 'HOME' trip Llangollen to Calf Heath Marina from Wednesday 26th July to Sunday 30th July 2006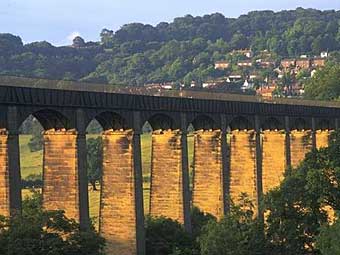 Thomas Telford's Pontcysyllte Aqueduct
(Photo courtesy of British Waterways)
Walsall Youth Service in partnership with the H.F. Truman Narrowboats
gave young people and youth staff the opportunity
to take part in this years exciting challenge.
Travel from Calf Heath to Llangollen or the return journey.
Live on the boats and take an active part in the trip.
Complete an accredited Crew qualification.
Opportunities to crew on the boats in the future!
Transport to and from Llangollen arranged with no additional cost
The challenge involved up to 16 young people and 4 staff each way with the change-over point being Llangollen
Cost per young person and youth staff was £10 per trip.
Staff ratio was minimum of 1 to 4 young people
All food and accommodation included.
Young people welcomed as part of the events team.
The Complete Crew Course was offered to everyone.
For details of the route

To see the Photo Gallery